"Holistic Guinea Pig" Linda Freeman Describes Her "Massage Plus" Experiences
I'm pleased to share that I was recently featured in Poughkeepsie Journal's Living and Being Magazine. Linda Freeman's three page article titled "Massage Plus" was also the featured cover story: "More Than Massage: Alternative Therapies Enhance Treatment."
Linda does not write about holistic health and healing as dry theory, nor does she do your run-of-the-mill sit down interviews with practitioners. Instead, as the magazine's self-dubbed "Holistic Guinea Pig," she literally puts herself into her work, personally trying out remedies and treatments and then sharing her experiences and results with her readers.
In my case, in order to experience the full range of techniques and modalities I offer, Linda put herself on my table for a series of traditional and modern massage sessions and alternative healing techniques that included Swedish massage, deep tissue massage, myofascial release, a custom tailored back pain session, a Chakra balancing, vibrational therapy, a hot Stone treatment, and more.
I also employed methods such as drumming, Tibetan bowls, tuning forks, crystals, smudging, and other tools and techniques that operate on energetic, emotional, and spiritual levels in addition to the physical. For many people, this provides a more complete, holistic treatment that soothes, stimulates, and heals their entire being.
As my clients know, I offer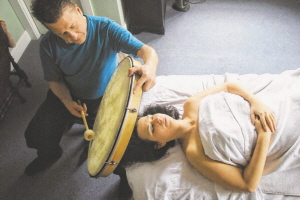 these "massage plus" healing modalities only to those who request them or are open to them. Many people prefer the more traditional "hands on" massage. For those who have not tried them, but are curious and open to the possibilities, Linda's superbly written article detailing her alternative treatments is the next best thing to being there.
I will let Linda's words speak for themselves: "Never before had I experienced a massage that went beyond the physical and dipped into the spiritual…Now I don''t know if a traditional massage will ever feel quite complete again."
Having the opportunity to work with Linda Freeman was an honor and a privilege. Seeing how she responded to each uniquely tailored session was a wonderful process, as it is with all my clients. I was not only happy to be able to share all that I have learned over the years, but blessed to have a writer as perceptive and talented as Linda share her experiences for the benefit of others.
 Click Here to read Linda's entire story and find out more (PDF).